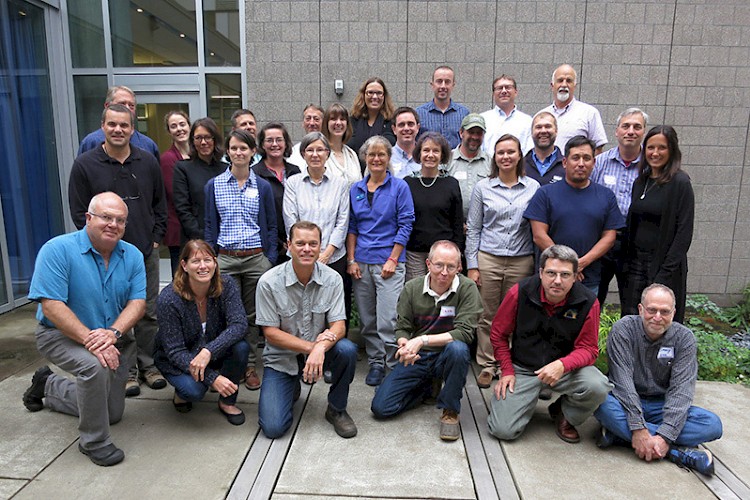 Assessing the health of a river as large and complex as the Willamette is a big task. In 2014, the Meyer Memorial Trust, a Portland-based foundation with a strong interest in the river, brought together more than 20 university, agency, and technical experts to help create the first Willamette River report card. With support from the University of Maryland Center for Environmental Science, the team of experts identified key indicators of river health and the data needed to measure the status of each indicator.
Report card goals
Capture a current picture of river health against which to measure future changes;
Identify and analyze key indicators of river health;
Share the story of the Willamette River's health with stakeholders and the public;
Explain how societal, community, and personal choices affect the river.
Stakeholders
The following organizations contributed significantly to the development of the Willamette River report card:
Meyer Memorial Trust, University of Oregon, Oregon State University, Oregon Institute for Natural Resources, Oregon Health Authority, Oregon Department of Fish and Wildlife, Oregon Department of Environmental Quality, Oregon Watershed Enhancement Board, Oregon Water Resources Department, Oregon Department of Agriculture, Oregon Department of Geology and Mineral Industries, National Oceanic and Atmospheric Administration (NOAA) Fisheries, US Army Corps of Engineers, U.S. Geological Survey, Confederated Tribes of Grand Ronde, Confederated Tribes of Warm Springs, City of Portland, City of Eugene, City of Albany, Clean Water Services, Eugene Water and Electric Board, City of Hillsboro, The Nature Conservancy Oregon, Willamette Partnership, Bonneville Environmental Foundation, and the University of Maryland Center for Environmental Science.
Photo credits
Thank you to Jeremy Monroe and Dave Herasimischuk (Freshwaters Illustrated), Rick Bowmer (AP), Human Access Project, Eric Vance (US EPA), Tracey Saxby (IAN/UMCES), Travis Williams and Kate Ross (Willamette Riverkeeper), Neil Shulman, Don Hankins, Marty Nill, City of Eugene, and Vern Rogers.