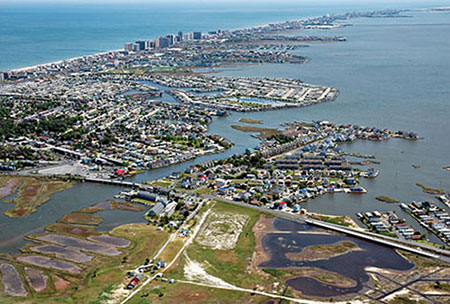 Serving as a playground for boaters and other water sports enthusiasts of Ocean City, MD and Fenwick Island, DE, Assawoman Bay is a popular location in the Maryland Coastal Bays.
Assawoman Bay is located between Ocean City and the mainland of Delmarva. Assawoman Bay covers the northern end of the Ocean City stretch, while Isle of Wight Bay covers the southern end. The Assawoman Bay region also includes a chunk of land surrounding the Bay and Little Assawoman Bay. Agriculture and development are two popular land uses in the area. There are two wildlife management areas in the region: Assawoman Wildlife management area and Isle of Wight wildlife management area. Little Assawoman is connected to Assawoman by a canal referred to as "The Ditch."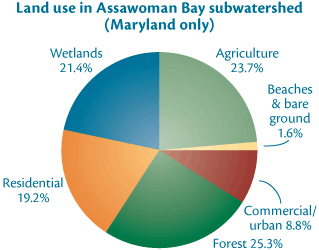 One of the biggest threats to the health of the region is the large amount of nutrients in the water. Nutrients (such as nitrogen and phosphorus) are important as they support the growth of living things. However, excessive nutrients can be harmful, upsetting natural cycles of the ecosystem and causing fish kills and loss of aquatic vegetation. Often, nutrients and toxins get into water systems when drainage systems are not working properly or natural buffers have either not been installed or have been removed. These symptoms threaten the overall health of the region and of all of the Coastal Bays.