Chincoteague Bay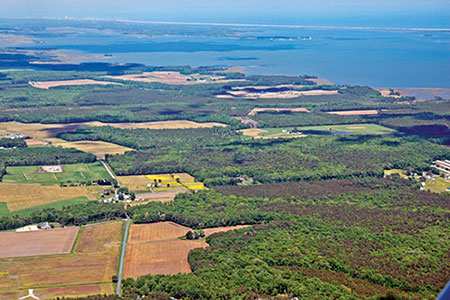 During the late 19th and early 20th centuries, Chincoteague Bay was well known for its shellfish industry, which shipped oysters, crabs, and clams to major cities on the East Coast. Unfortunately, overfishing depleted its shellfish stocks, which have still not recovered.
Chincoteague Bay is a lagoon between Assateague Island, Worcester County, Maryland, and northern Accomack County, Virginia. At its northern end, it becomes Sinepuxent Bay; its southern end drains into the Atlantic Ocean via Chincoteague Inlet. No major river flows into Chincoteague Bay—its largest tributaries are Newport Creek in Worcester County and Swans Gut Creek in Accomack County. The Chincoteague watershed is primarily forest and agriculture.
Due to strong agricultural zoning and a desire to protect the richness and beauty of Chincoteague Bay, Worcester County and the state of Maryland have protected 24% of the mainland Maryland watershed of the Coastal Bays' largest bay. When Assateague Island is included, this number increases to 38%. Most notable are the 2,324 contiguous protected hectares (5,743 acres) in the state's Rural Legacy Program that surrounds the 1,400-hectare (3,500-acre) E.A. Vaughn Wildlife Management Area. Efforts have focused on large shoreline properties in the watershed which harbor dozens of rare and endangered plants as well as significant blocks of forest, gone from most of the northern Coastal Bays. With the highest wildlife diversity for both aquatic and terrestrial species, Chincoteague Bay will continue to be the focus of conservation dollars.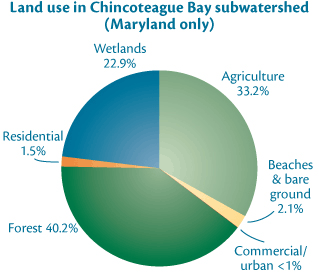 Large areas of what was thought to be pristine habitat are showing significantly degrading water quality trends and living resource impacts. Despite past improvements, nutrients and phytoplankton have been increasing in recent years throughout Chincoteague Bay.
In 2006, Scenic Maryland released its Last Chance Scenic Places report which includes the coveted gem of the Coastal Bays—Chincoteague Bay. Their description is accurate, describing the remote bay and its watershed as a "wild, largely undeveloped region dotted with tiny islands, marshes, beaches, and hunting and fishing camps [offering] a wealth of scenic beauty and diverse habitats." Scenic Maryland releases the annual report to draw attention to the state's most beautiful places which are also becoming the most imperiled. In Chincoteague Bay's Virginia portion, burgeoning development and permissive zoning threaten the very nature of the bay and its unspoiled vistas.