About the Sudbury, Assabet & Concord Rivers report card
Assessing the health of a river system as varied and impacted as the Sudbury-Assabet-Concord is a big task. In 2017, OARS, the watershed organization for the three rivers, brought together funding and 52 key stakeholders and technical experts to help create the first Sudbury-Assabet-Concord River report card. Guided by the University of Maryland Center for Environmental Science and OARS, the team of experts and stakeholders identified key indicators of river health and the data needed to measure the status of each indicator.
Report card goals
The overarching goal of the report card is to communicate the story of the river's health to stakeholders and the public and engage them in river stewardship.
This required the team to:
Identify what stakeholders and the public value about the rivers
Identify and analyze key indicators of river health;
Capture a current picture of river health against which to measure future changes;
Explain how societal, community, and personal choices affect the river.
Stakeholders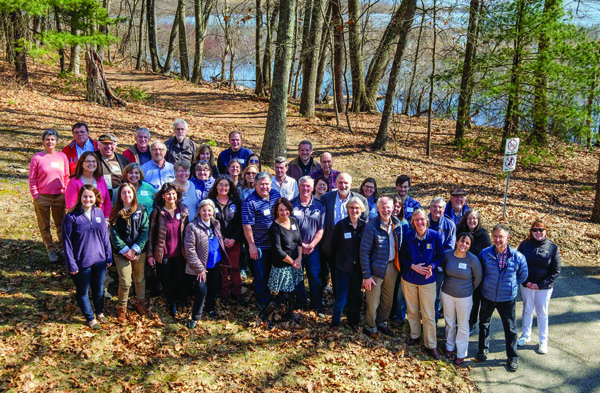 Many organizations and individuals contributed significantly to the development of the report card. Funding provided by: Massachusetts Environmental Trust, The Sudbury Foundation, National Park Service, Cedar Tree Foundation, OARS Assabet Fund, OARS members. Project partners: University of Maryland Center for Environmental Science; US Environmental Protection Agency Region 1; Massachusetts Department of Environmental Protection; Massachusetts Division of Ecological Restoration; Massachusetts Rivers Alliance; and Sudbury, Assabet and Concord Wild and Scenic River Stewardship Council. Stakeholder workshop participants also included: US Geological Survey; US Fish & Wildlife Service; Towns of Acton, Bedford, Billerica, Concord, Hudson, Maynard, Sudbury and Wayland; Cities of Framingham and Marlborough; Watershed organizations for the Charles, Ipswich, Merrimack, Mystic, Nashua and Neponset Rivers; Friends of Saxonville; Sudbury Valley Trustees; Lowell Parks & Conservation Trust; Green Acton; Westborough Land Trust; Concord BioCAN; Metropolitan Area Planning Council; MassBAYS; Mass Audubon; and consulting firms CEI, Geosyntec and HydroAnalysis.
Photo Credits
Thanks to Dave Griffin (Confluence Visuals), Bill Dennison (University of Maryland Center for Environmental Science), and OARS photo library. EcoHealth Report Card website by Visual Science.