This indicator measures the overall health of the Verde River Watershed as the average of the Water, Habitat, and Communities category scores.
The Verde River is one of the last perennial desert streams in Arizona, located in the geographic center of the state. Its flow originates from aquifers and ephemeral washes north of Prescott and stretches over 190 miles to its confluence with the Salt River. From the alpine forests of the San Francisco Peaks and the grasslands of Chino Valley to the Sonoran Desert of the McDowell Mountains, the Verde River Watershed holds and incredible diversity of life. Cities and towns different as Flagstaff, Prescott, Camp Verde, Payson, and Scottsdale all call the watershed home.
Assessing the health of a watershed as complicated as the Verde is an enormous challenge. To do so we identified three focus areas, Water, Habitat, and Communities. The health of the Verde's waters were measured as the average of its water quality, water quantity, and water management. To measure the health of the Verde River Watershed's habitats, we assessed the state of its upland, riparian, and aquatic ecosystems. Finally, we assessed the vitality of our communities by measuring housing affordability, education, unemployment, and recreation.
This indicator averages scores for these three categories into one measure of overall watershed health.
Overall results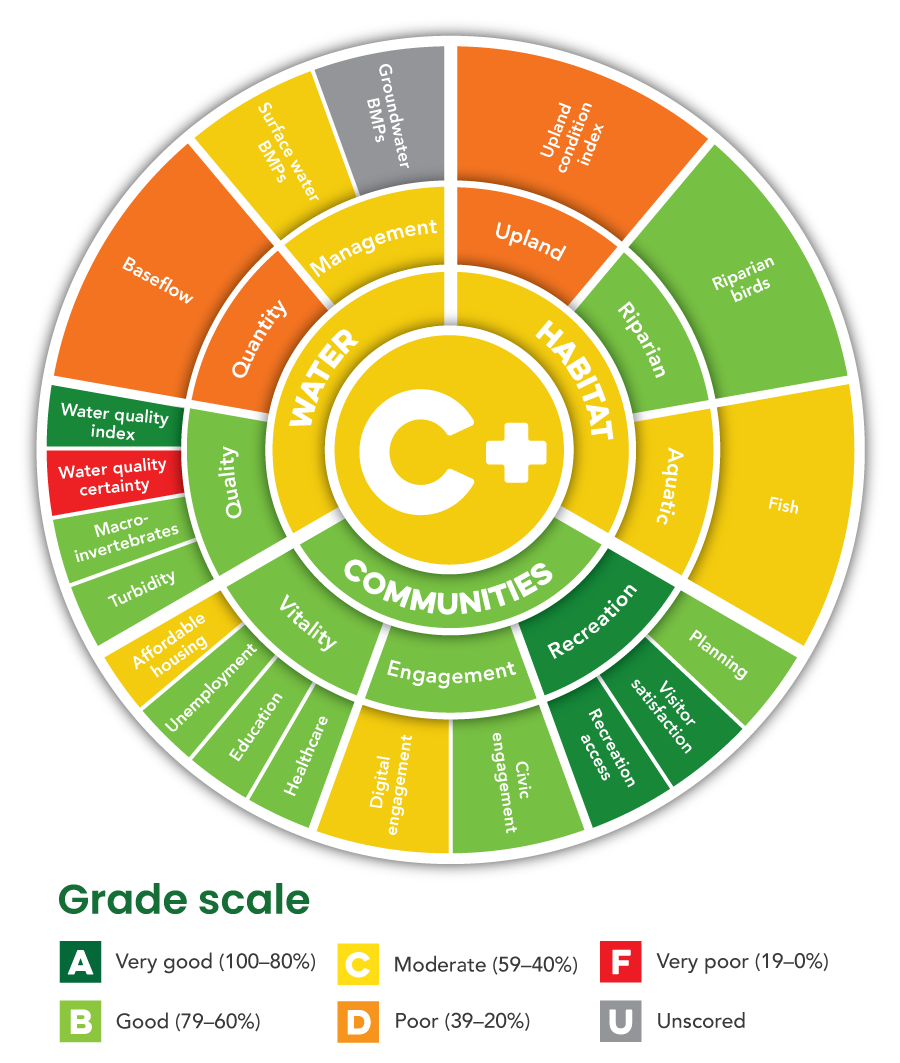 Overall, the Verde River watershed earned a score of 57%, a C+. Of the three categories, Water and Habitat had moderate scores, 49% and 54% respectively, and Communities had a good score, 69%. Baseflow scored poorly, (38%) reflecting nearly 30 years of steadily declining baseflows. The lowest scoring indicator was water quality certainty, which was very poor (19%), and measures how certain we are that the water quality scores are accurate. This is due to the need for increased monitoring efforts throughout the watershed. While some reaches are studied extensively, others are studied very little or not at all. The highest scoring indicators were in the Communities category; both recreation access and visitor satisfaction had very good scores, 87% and 96%, respectively. There are many recreational opportunities available across the watershed and visitors are happy with their experiences on and around the river. The habitat category had mixed results. Upland habitat had a poor score (36%) and riparian birds had a good score (77%). Habitat scores are affected by many factors, including the susceptibility of soil to erosion, risk of catastrophic wildfire, and the quality of vegetation near streams and rivers for bird habitat. More details are available at verdereportcard.org.