Isle of Wight Bay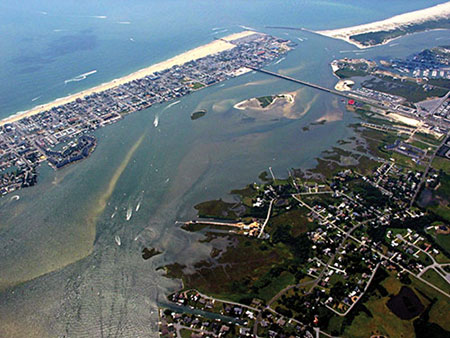 Tourism in Isle of Wight Bay is a big business. With some 300,000 weekend visitors in its eastern flank, the bay hosts recreational interests of all varieties from Ocean City.
The northern boundary of the Isle of Wight Bay is the Route 90 bridge and its southern boundary is the Route 50 bridge. Both bridges link the mainland of Worcester County to the Fenwick Barrier Island and Town of Ocean City. Along the eastern edge, three creeks--Manklin, Turville and Herring--empty into the bay, as does the St. Martin River. The major land uses are agriculture, forestry, and residential/commercial development.
---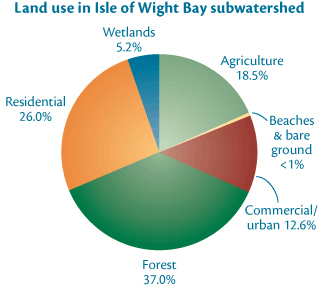 There are at least 111 canals adjacent to the Coastal Bays; 59 of which are in Isle of Wight Bay. Most of these canals were built between 1960 and 1980 by development projects that dug the canals to create residential waterfront lots. Most were dug through wetlands with the material being side-cast to build up elevation. The canals were often dug deeper than their receiving water, resulting in lower bottom elevations and poor flushing. This causes canal water to stagnate and become depleted of dissolved oxygen, which is essential for organisms to survive. The canals also receive pollutants from stormwater runoff, discarded residential trash, and the leaching of pollutants from treated bulkheads and boat paints.